Rich and I would often take to the open road in our bow top caravan, pulled by Gorgeous our trusty mare, travelling around the Cotswolds, pitching up on verges and in welcoming farmers' fields for the night.  Dinner was cooked on the open fire, under vast night skies.  Oh, we slept so deeply!  Life slowed down, just the rhythmic clip clop of hooves upon tarmac as we travelled from one village to the next…  Our boys are big adventurers, so we didn't even hesitate to take them with us.  If you have ever been in a bow top caravan, you will know that space is at a premium and as our boys grew, our weekend trip felt more claustrophobic than idyllic. Once we turned in for the night, our minds began to think of what next….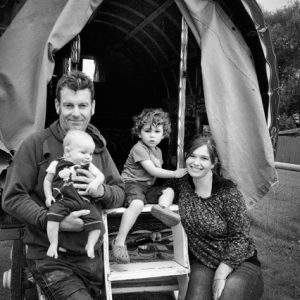 It wasn't long before we stumbled upon this wonderful wreckage (nicknamed 'cattle shed on wheels'), a 1950s Warwick Knight caravan*.  Something about this green algaed aluminium box spoke to us, and we had a vision!  Two months later, it arrived safely.  Friends and family eagerly came over to see what we couldn't stop talking about and were rather baffled when faced with this!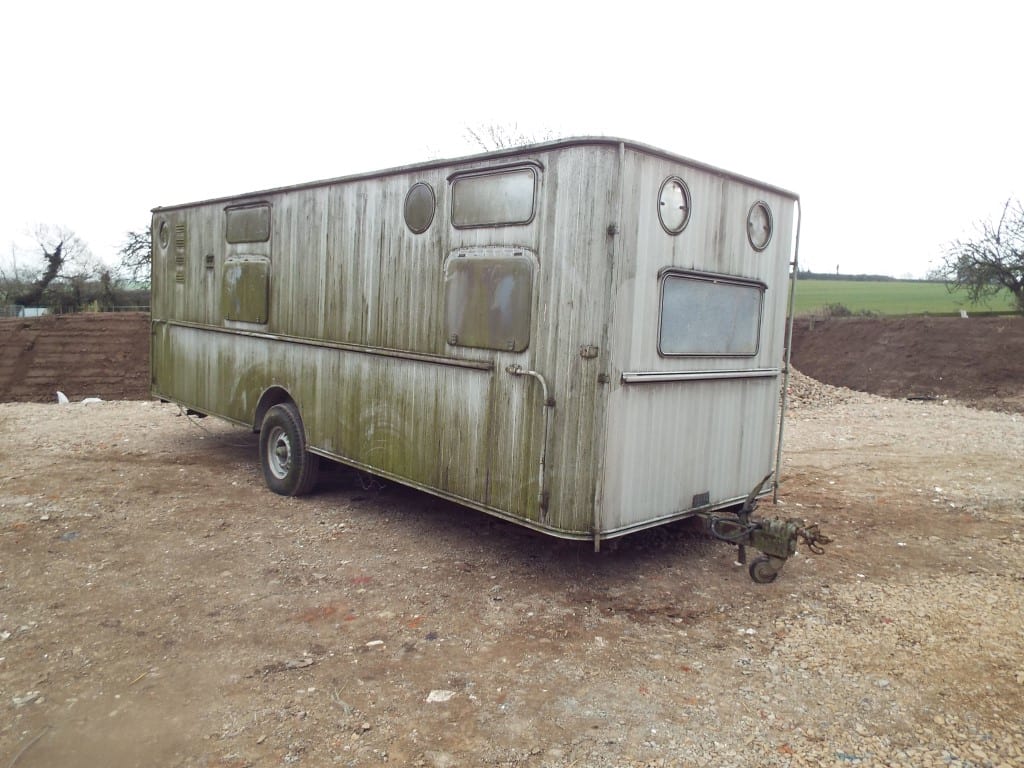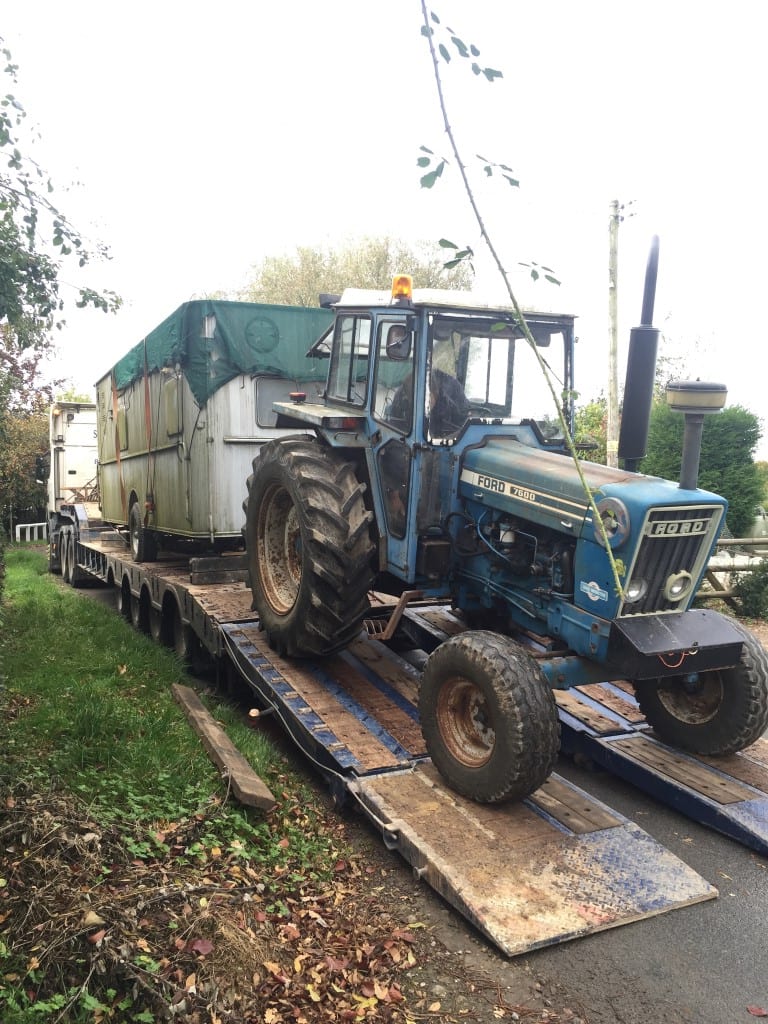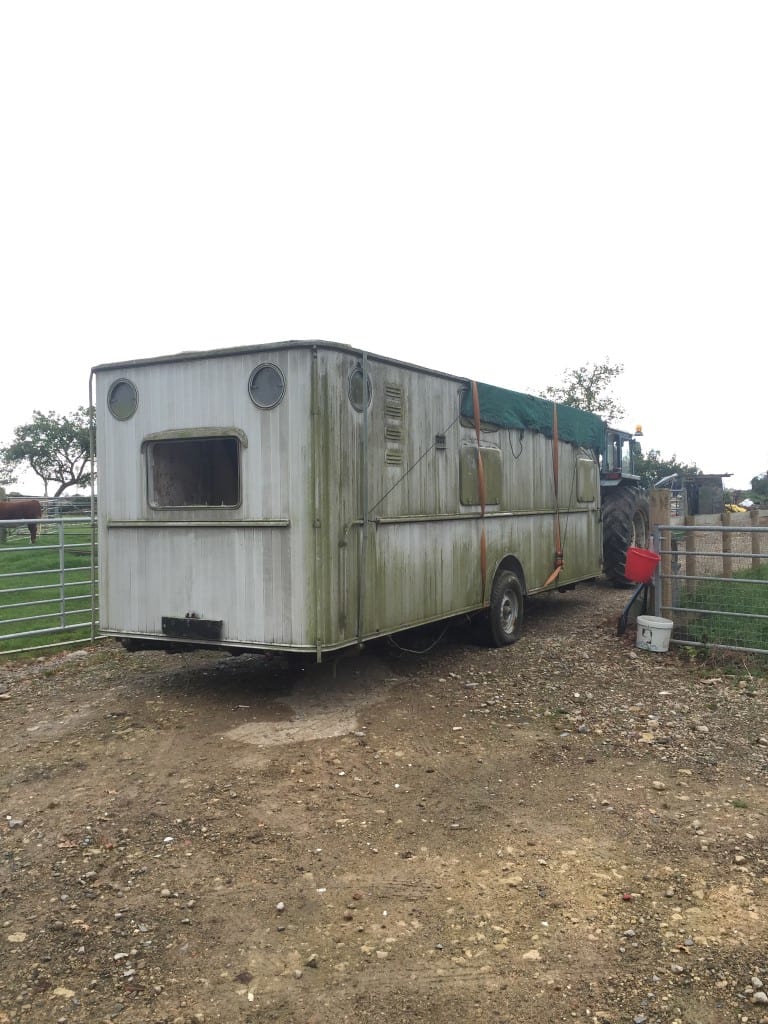 Can you imagine our brimming excitement when we found an archived picture of Warwick Knight in his day – we knew we had made the right decision and for us it was all about the roof garden.
We couldn't wait to get started and to add even more excitement, we welcomed George Clarke to film us along the way for his Channel 4's series Amazing Spaces. Filming was a great experience and George's reaction when he walked into the caravan was shock and amusement due to the debris and fallen-in roof. We did warn him it was dilapidated, but I guess seeing it was an eye opener….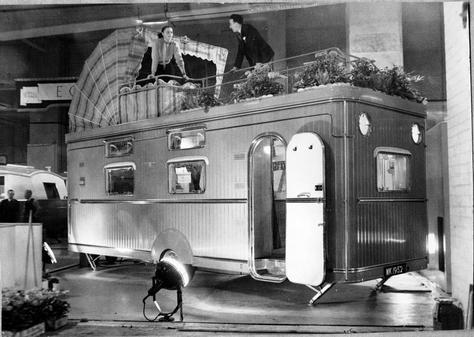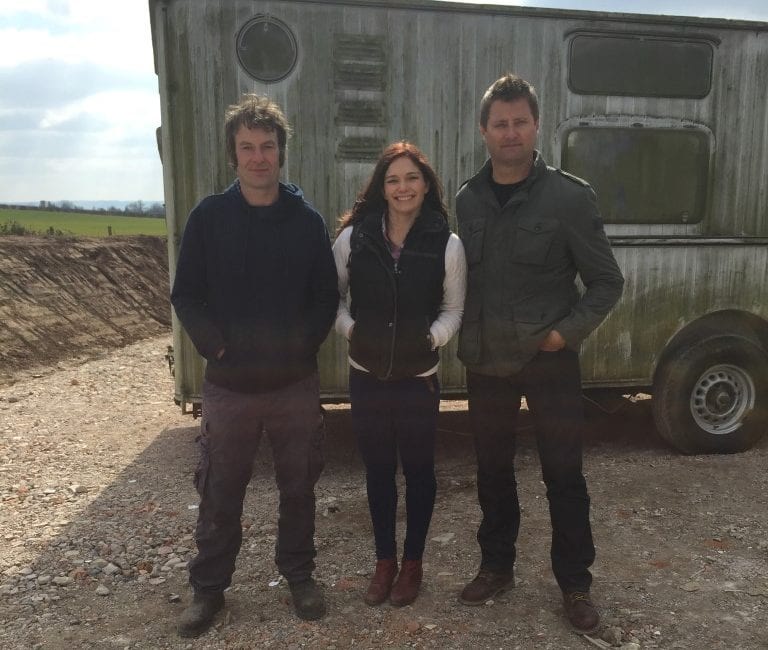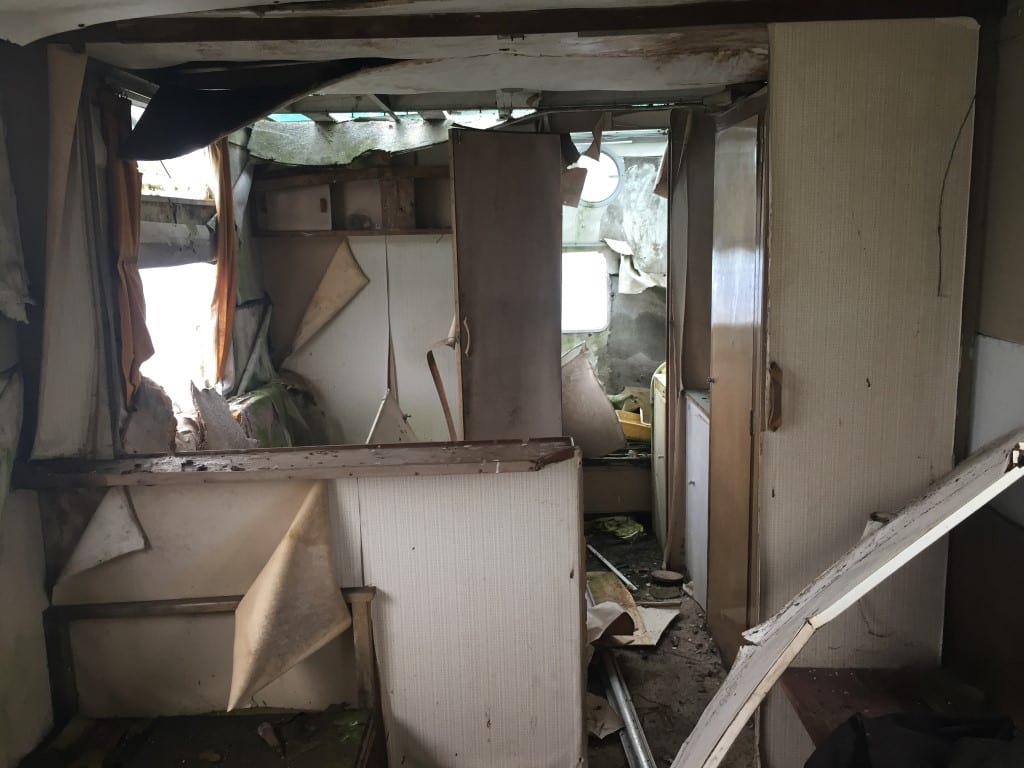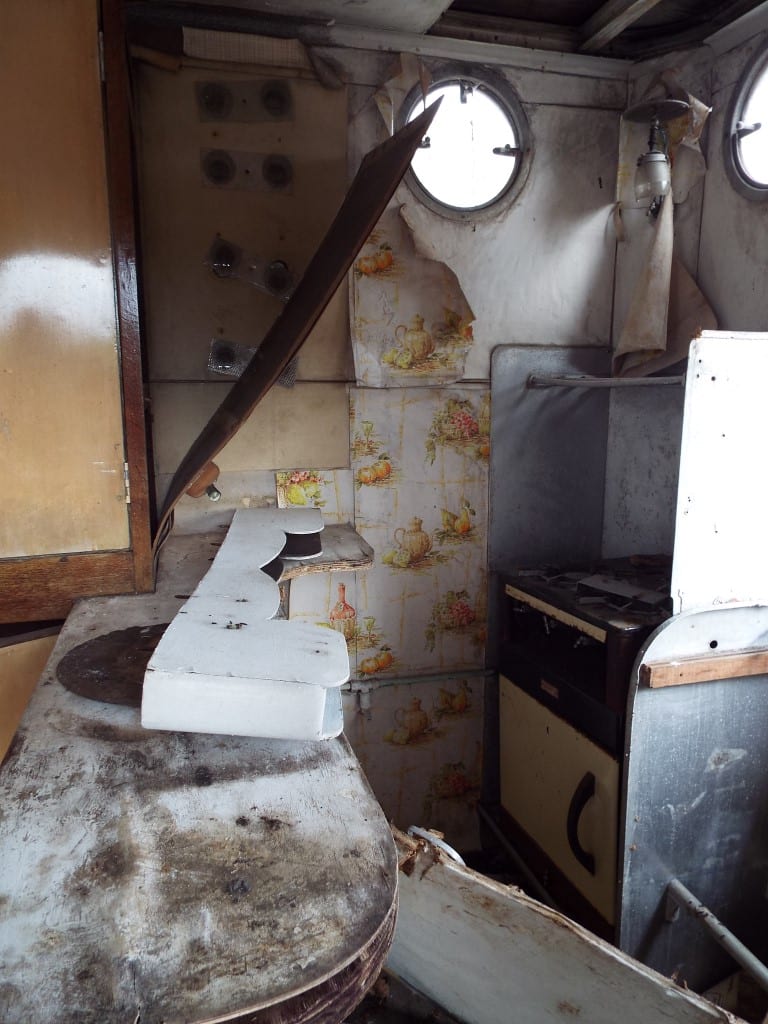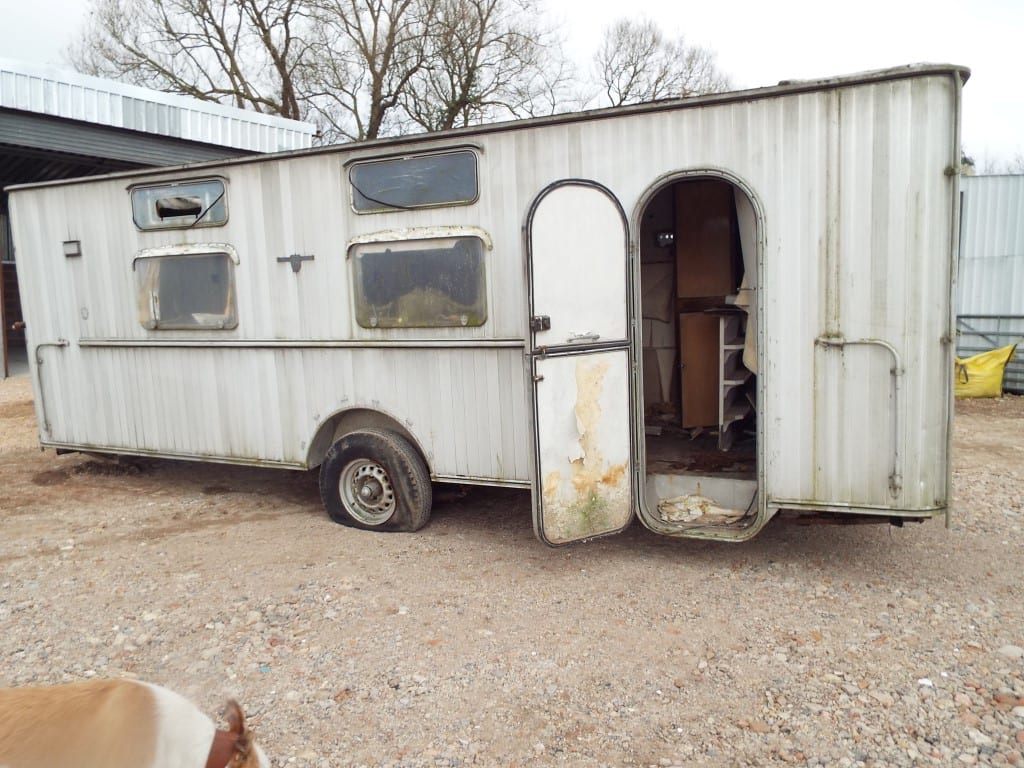 After a lunch stop, George could not wait to get involved! What was left of the dishevelled roof was coming off.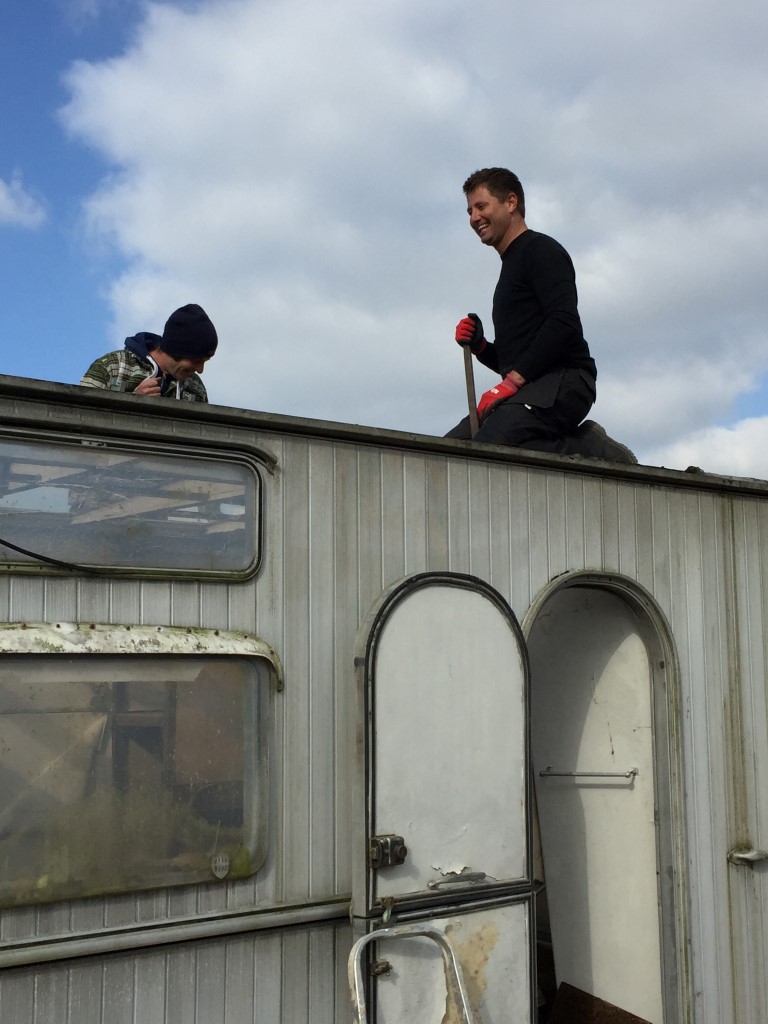 This was the point we discussed ideas of how we wanted to use the caravan – did we keep it touring or have it as a static space? The consensus was static so we did not have to worry about how heavy it was, which meant we could really go to town on the roof garden and finishing touches. Imagining it settled into the gorgeous orchard, there was no doubt that this was the right decision made.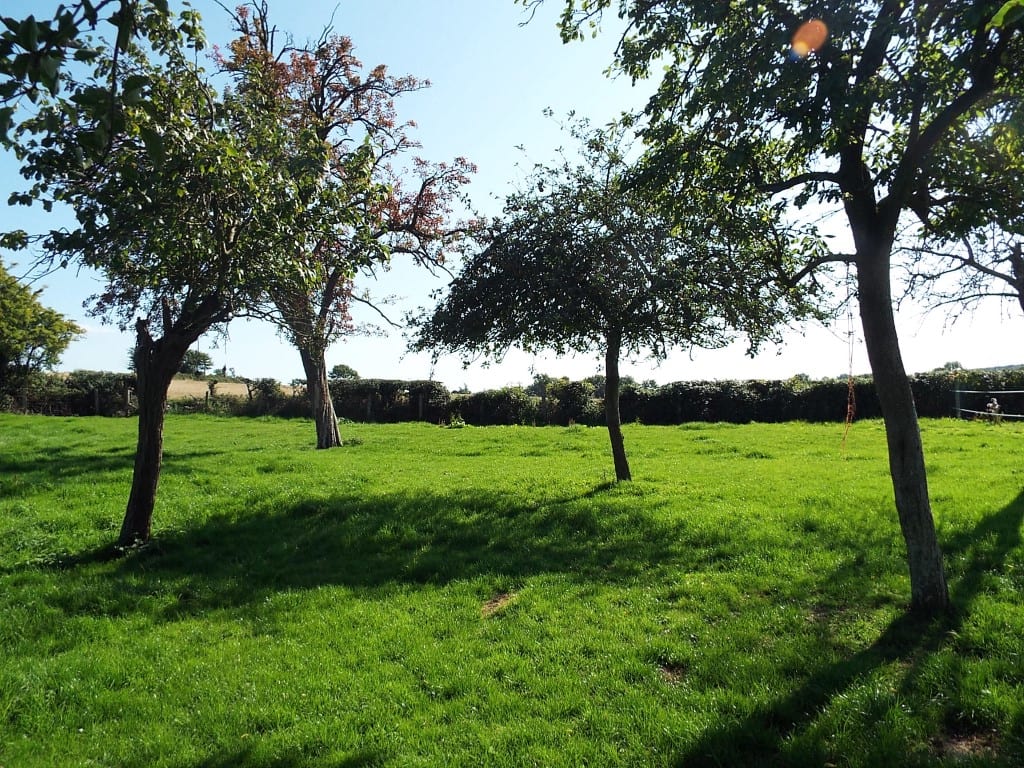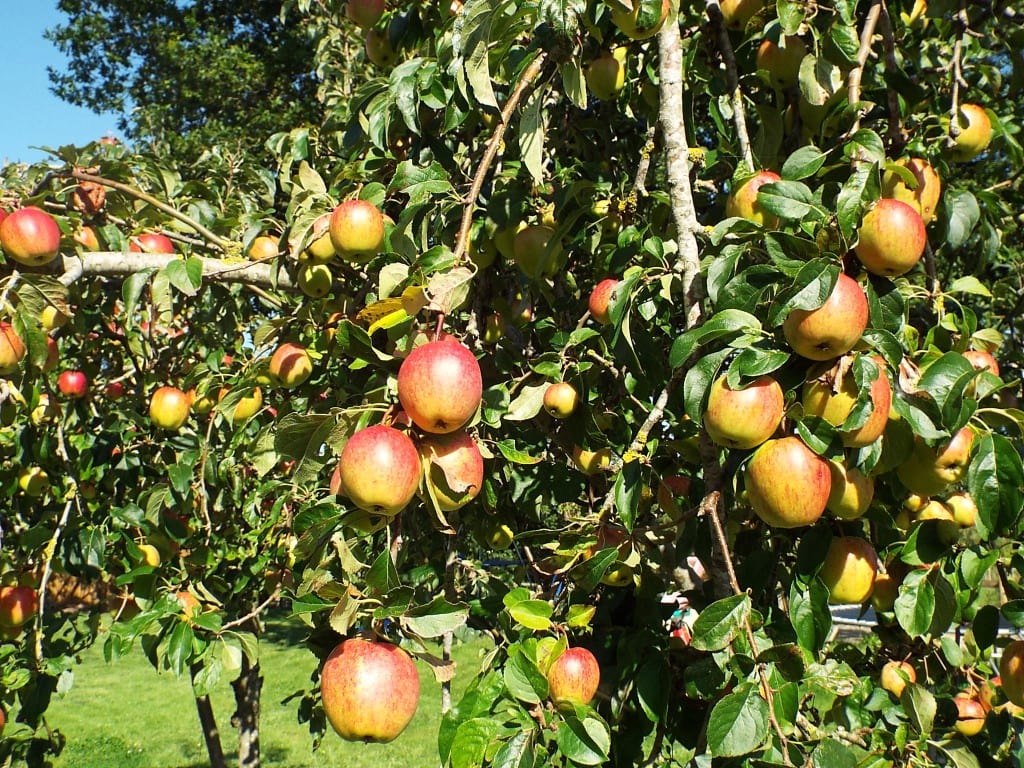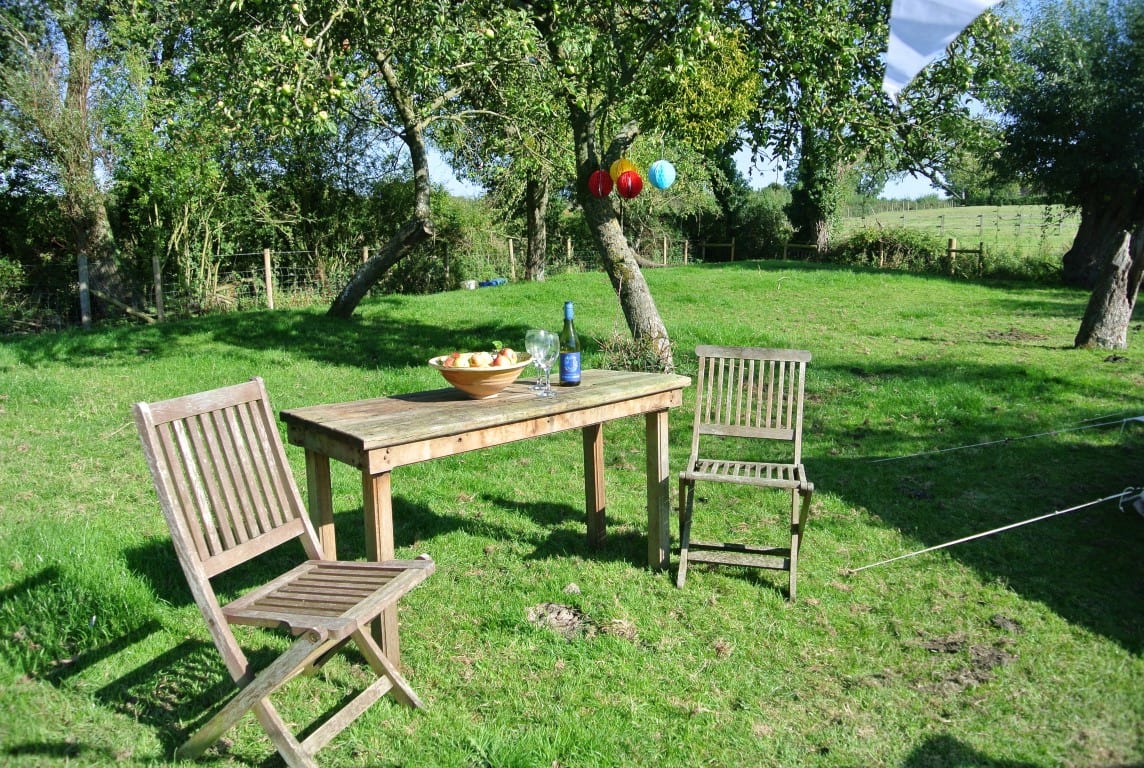 Gutting it seemed to take for ever. The twin wall cavity of the caravan was literally studded everywhere with rusty old screws. Each one had to be taken out individually, a job which took Rich into the early hours on numerous of occasions.
Rich had spent the last month fabricating a new roof and the film crew came back to film this exciting, but nerve-wracking, next stage. Will it fit, will the caravan take the weight? With a few ratchet straps to stabilise it in the wind, the structure fitted the caravan like a glove…. Clever Rich!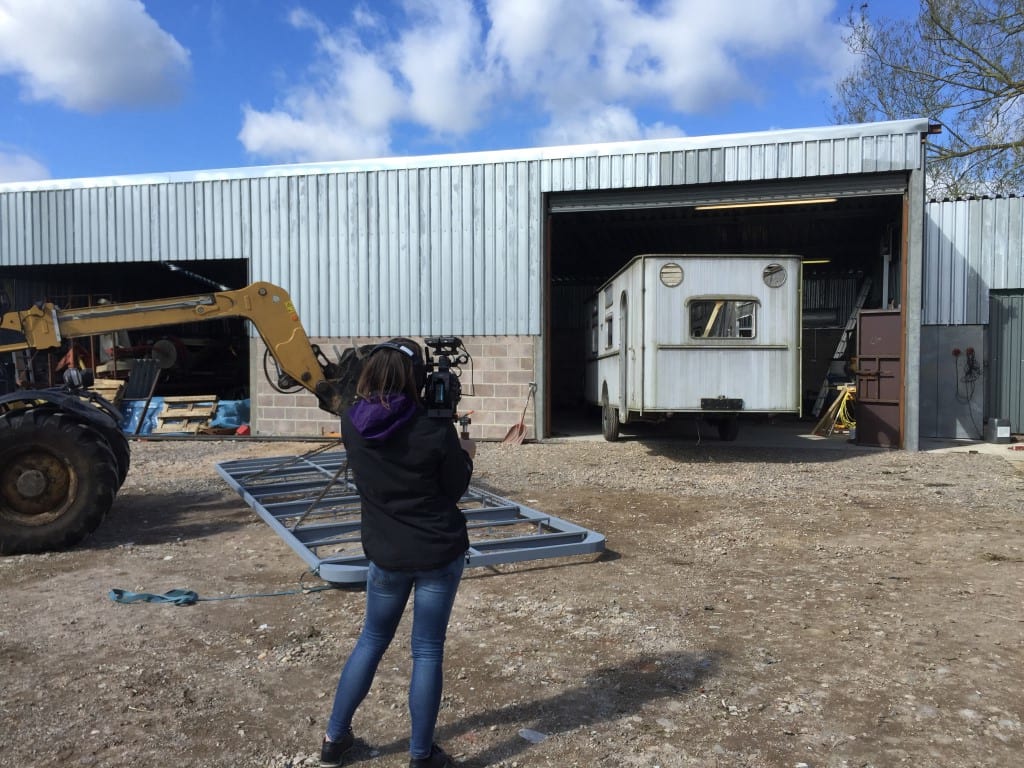 Filming-the-roof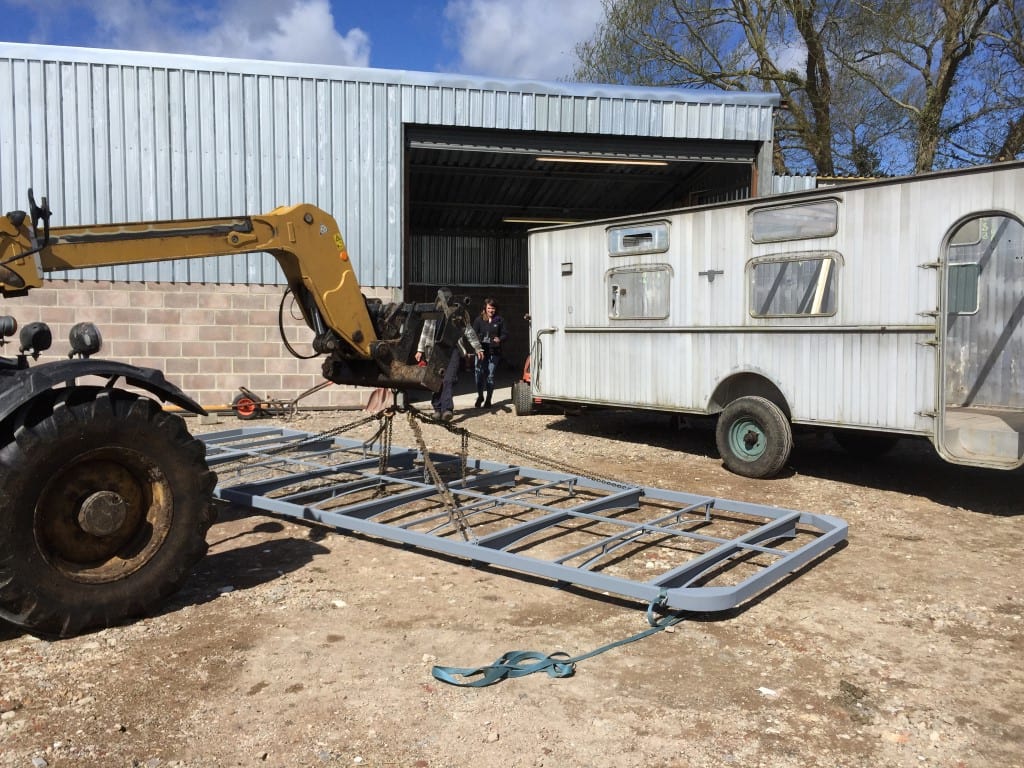 Warwick-Knight-roof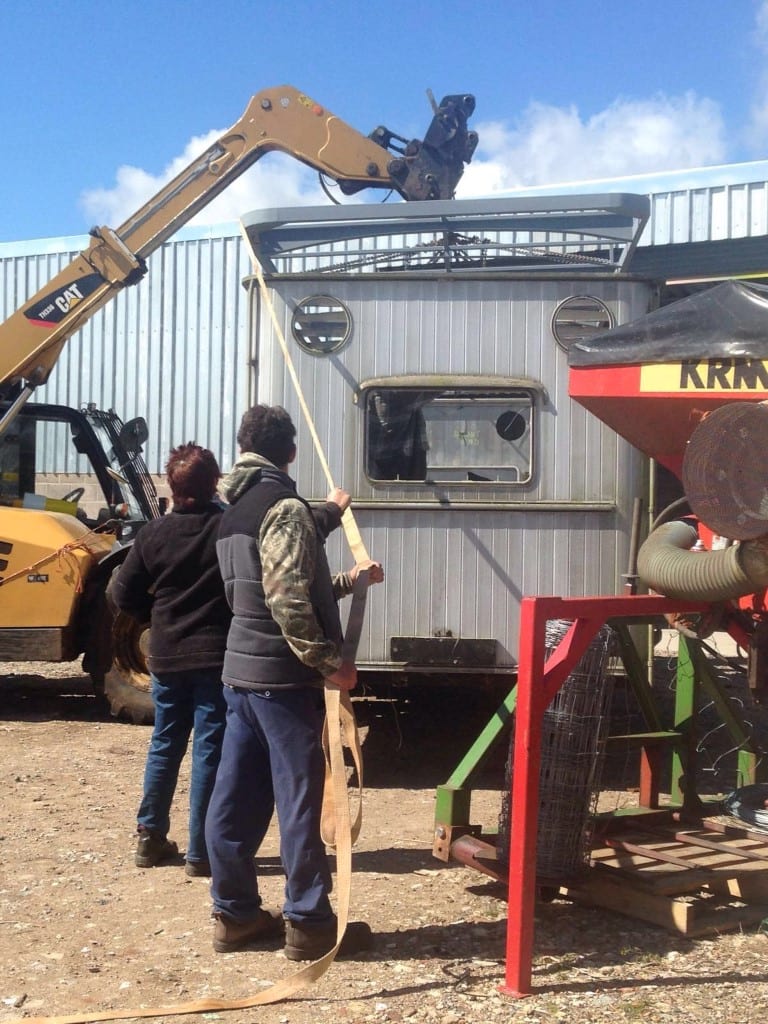 Roof-going-on-Warwick-Knight

And with a new roof, it was time to give the Warwick Knight a well-deserved a clean.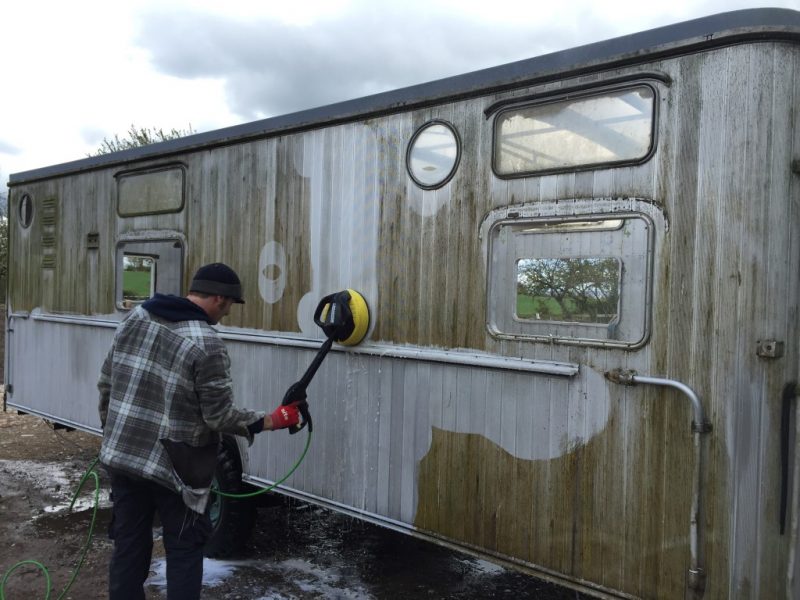 With the insulation in we couldn't put off the hard task of deciding on the layout of the interior of the caravan any longer.  The boys wanted bunk beds and I wanted a calm and relaxing space for a double bed. So we all lay down on the floor trying to get a feel for the space, before we reached the decision of putting our bed at one end of the caravan. Having the double bed here we thought we would take full advantage of the views over the orchard, whilst flooding the bed with lots of natural light. The bunks then fitted down one side creating a zoned bedroom area at the front of the caravan. Our next dilemma was where to place the kitchen, the obvious position would be the opposite end of the caravan, but we also wanted to have a spacious sitting area. So the only option was to place the kitchen on the side which also allowed us to maximise the limited space we had.
Totally blown away by the ingenious way Rich has used the space. From the bunks he continued the wood work into the sitting area, creating space saving pull out drawers and cupboards.  The kitchen was starting to take shape too.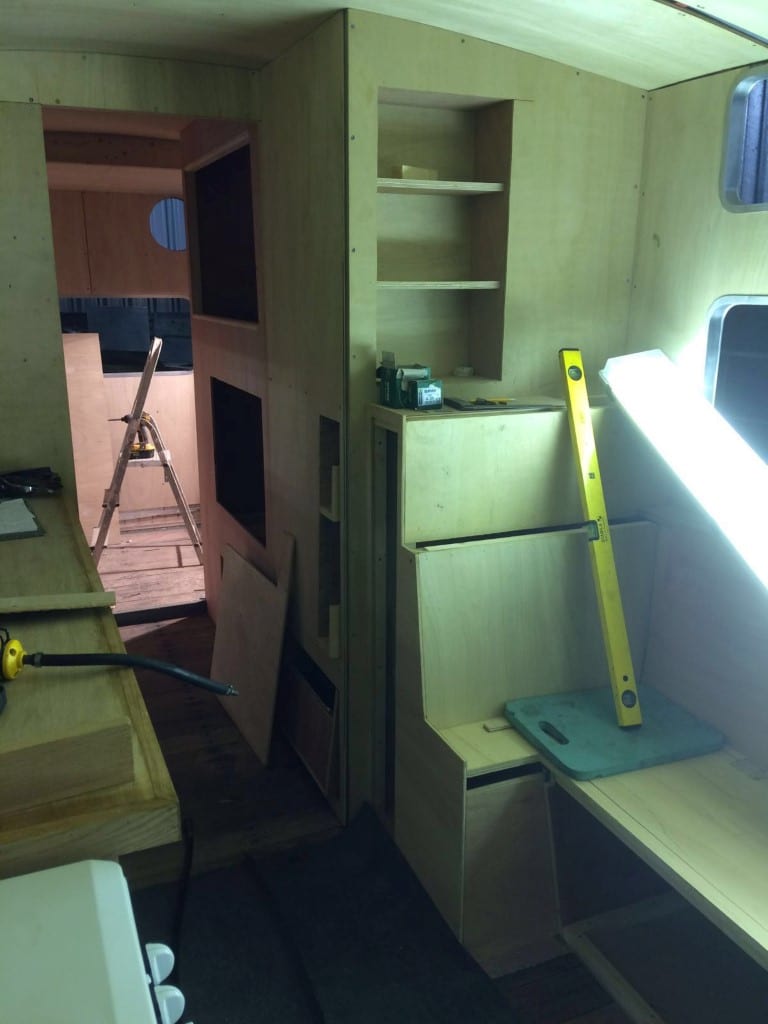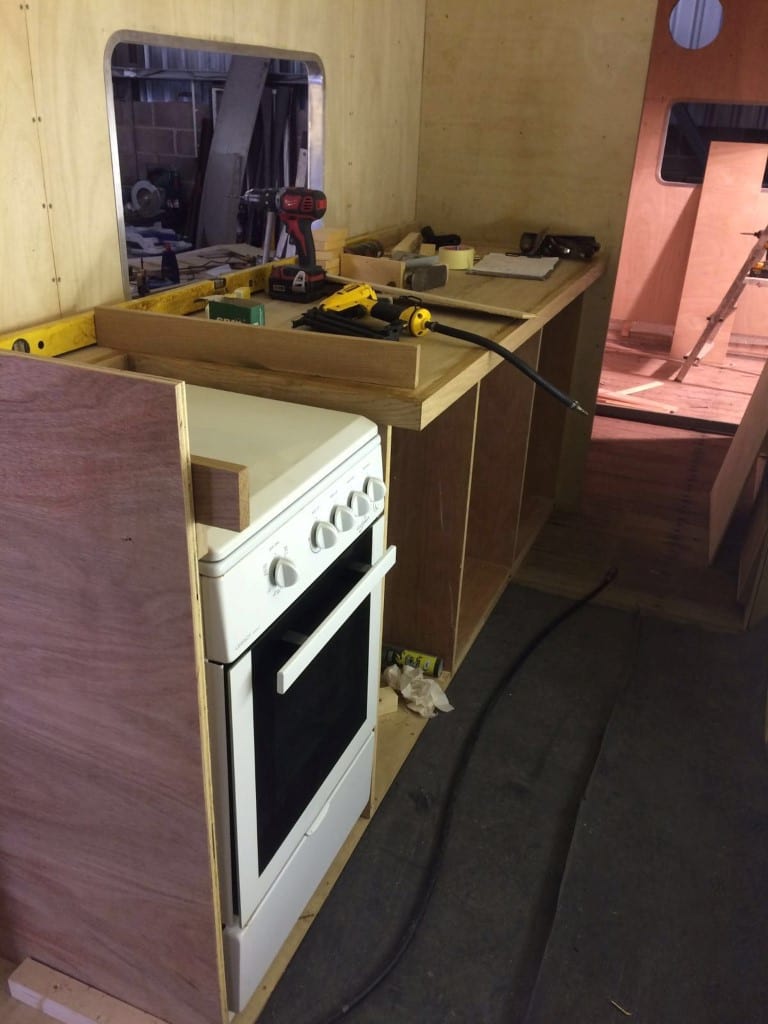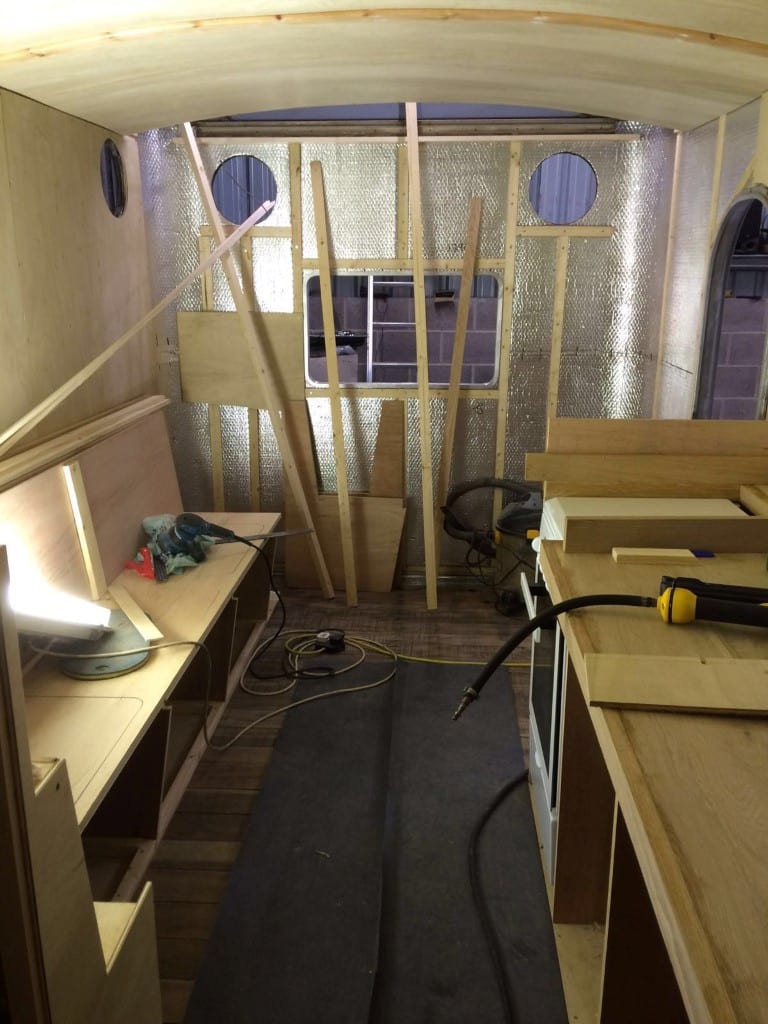 Cleaning the outside was painstakingly slow. Every window, every groove had to brushed clean, then 150 metres of rubber seal around the windows and doors had to be inserted in.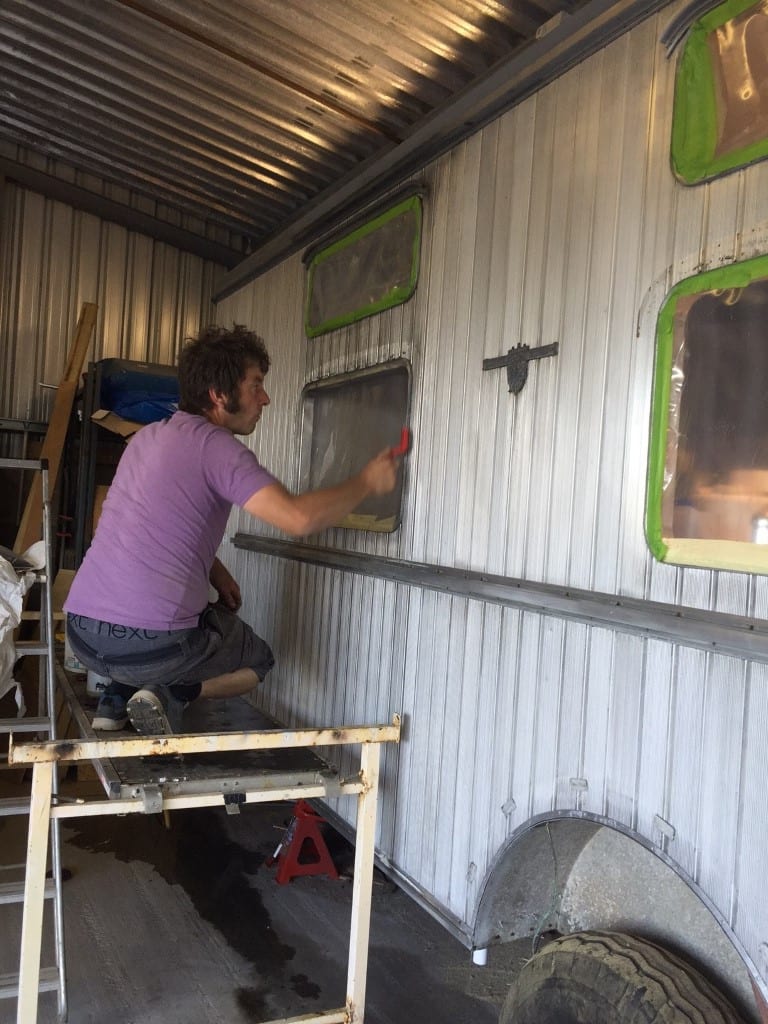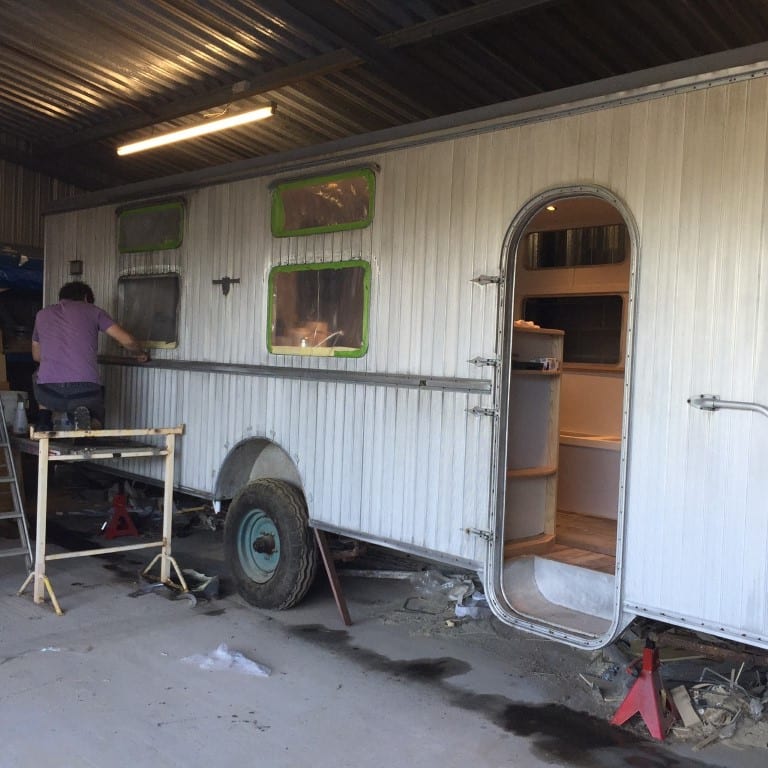 The soft furnishings, were tricky…What was the look we were going for? After lots of research and trailing around shops, we think we cracked it. And to top it off we found a fabulous fire.
And the paint started to go on.
Warwick Knight got his top hat; the grass went on and this was one of my top highlights…  it really did bring our vision to reality.
Drumroll…. The Warwick Knight left the workshop, ready for his new home in the orchard.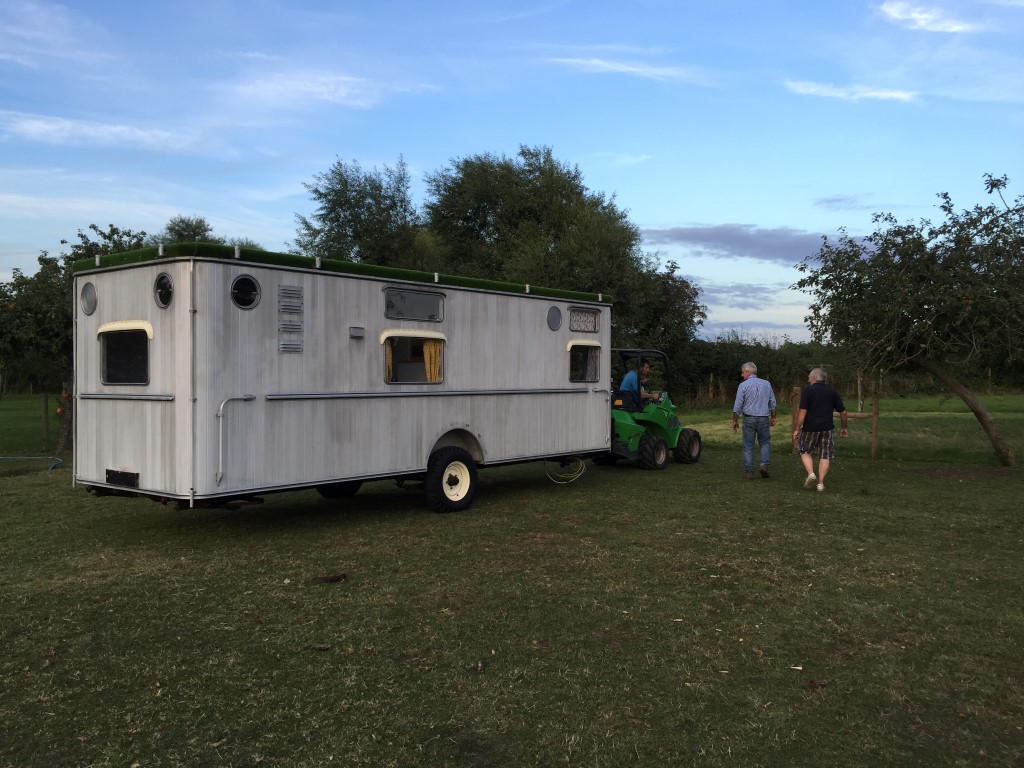 With a little help the stairs are following too.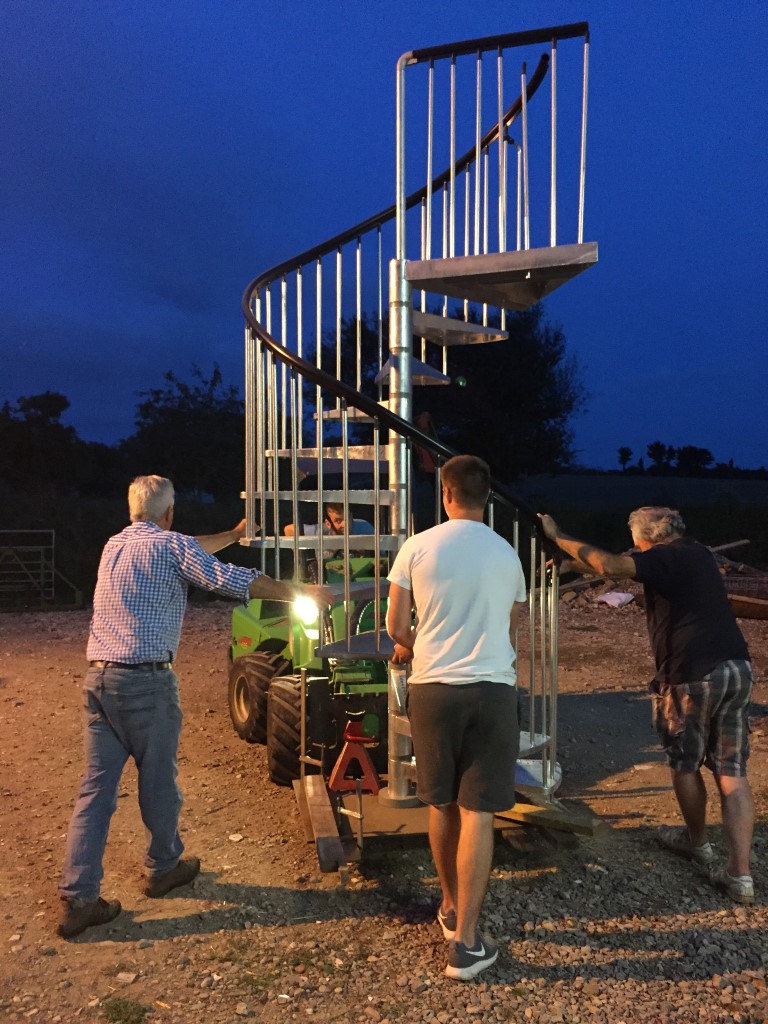 The sun was shining and we were beaming too. The Warwick Knight was finished. What a journey, what a feat!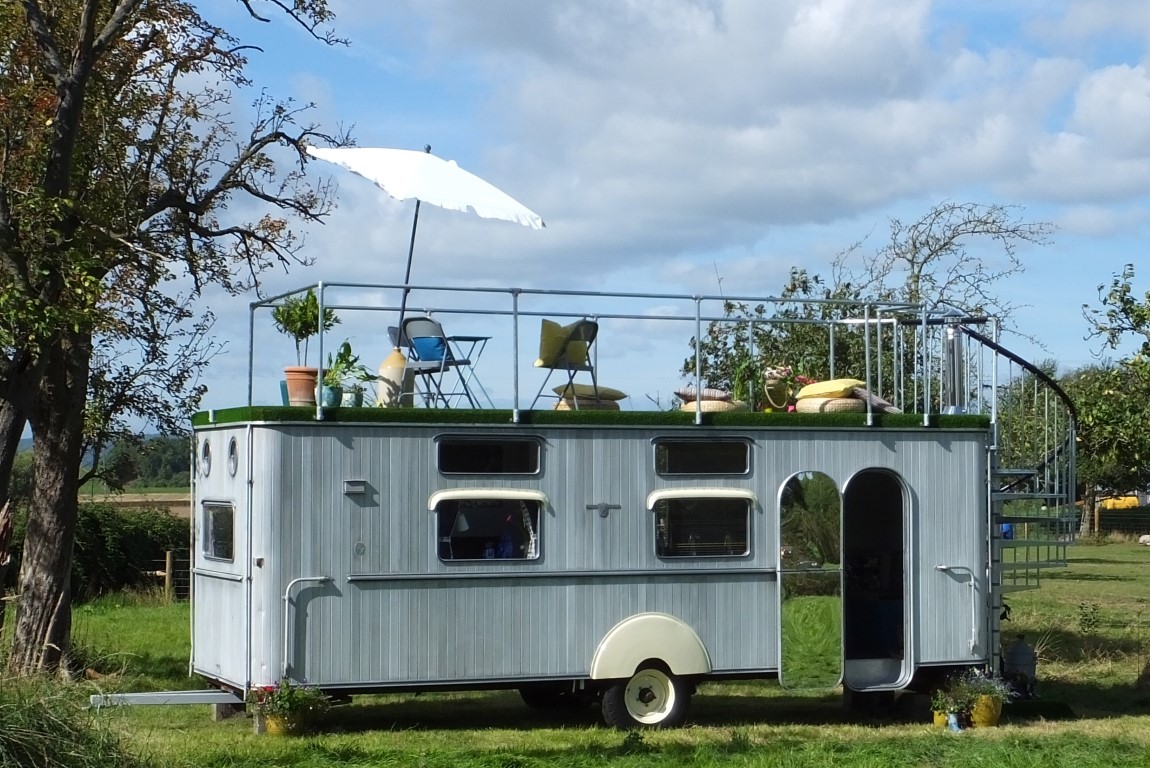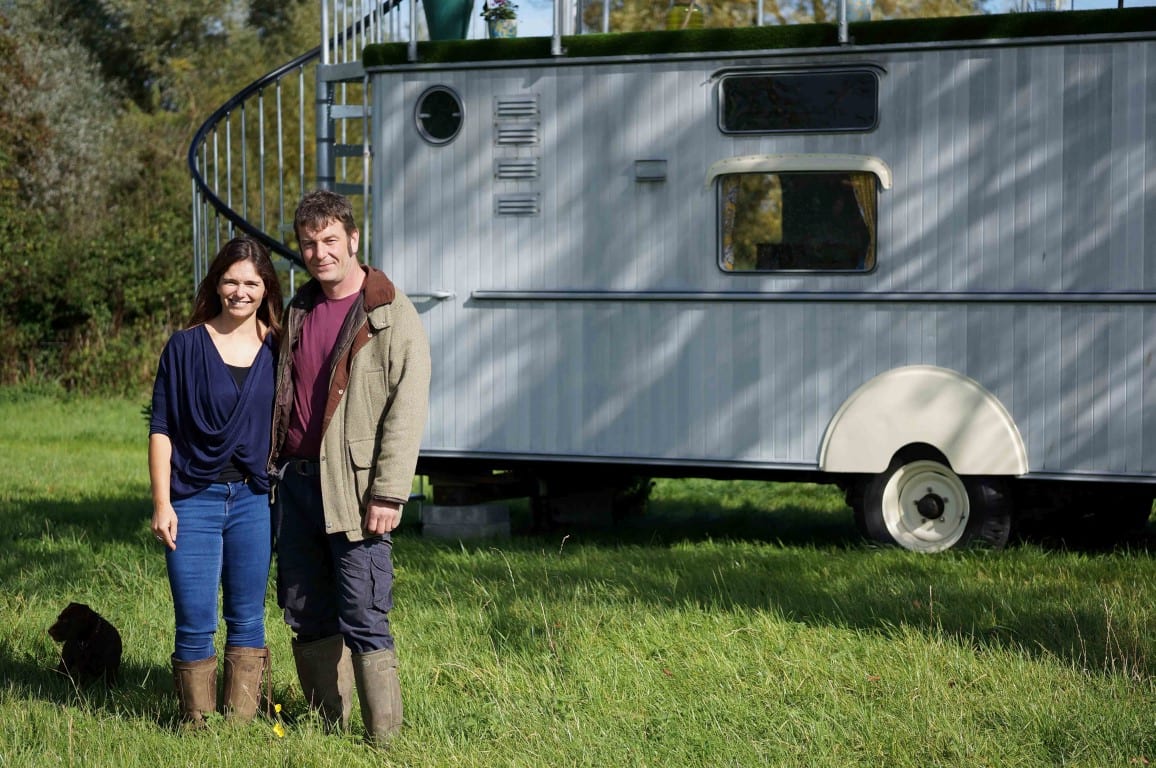 dsc01776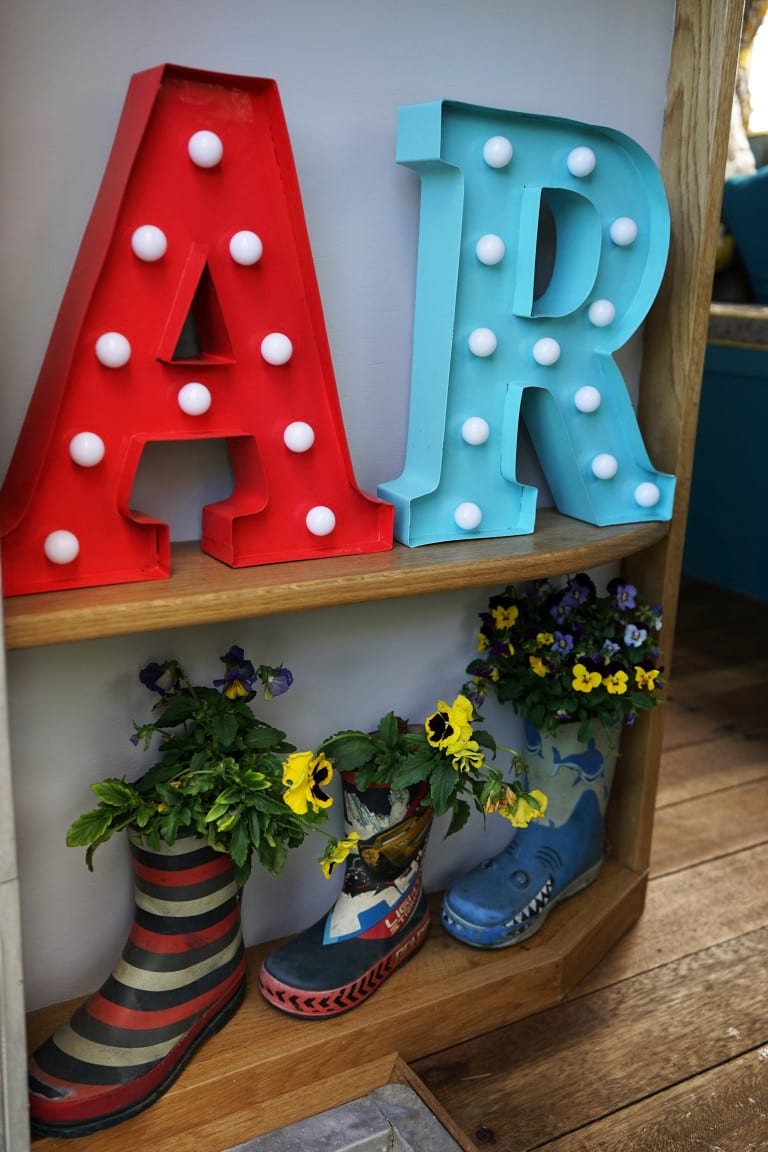 dsc01811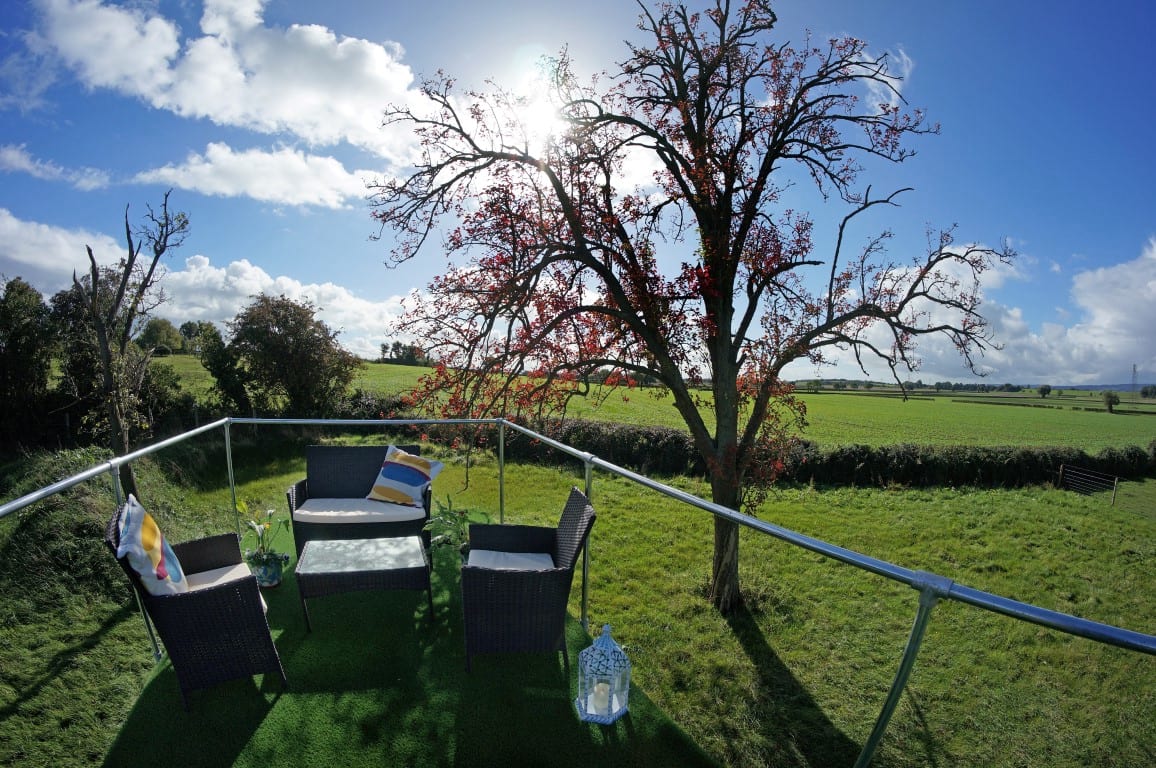 dsc01809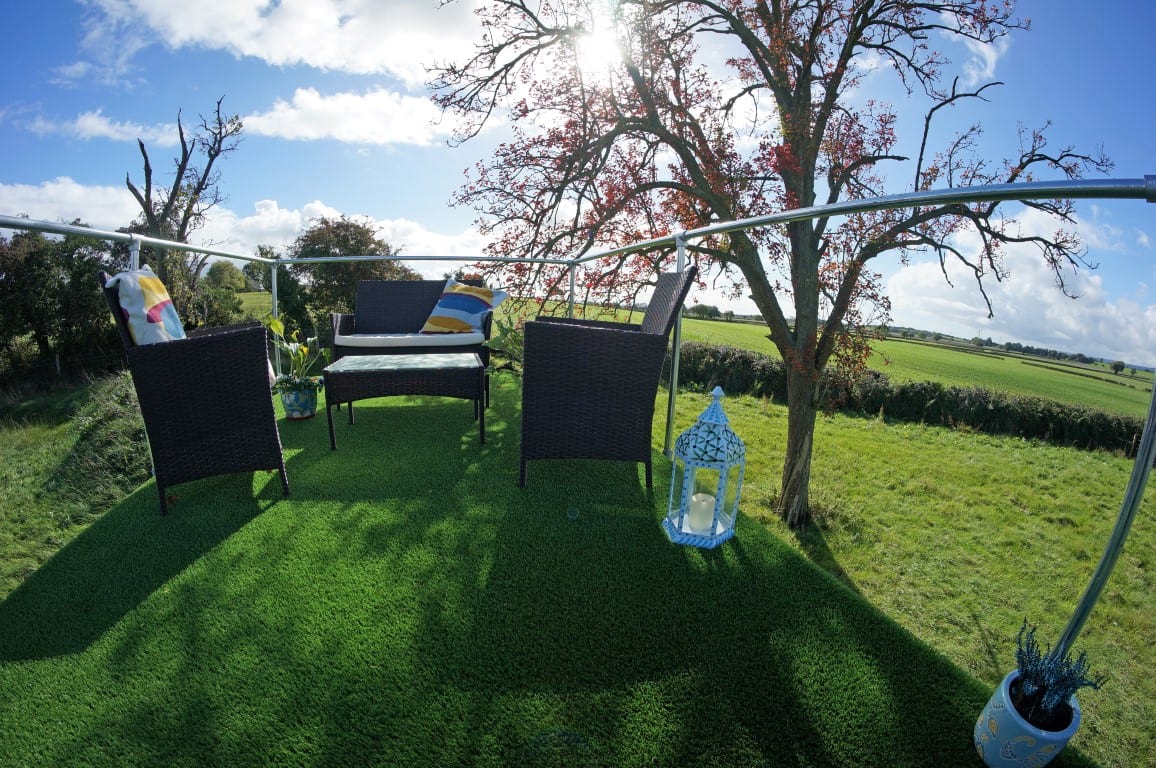 dsc01806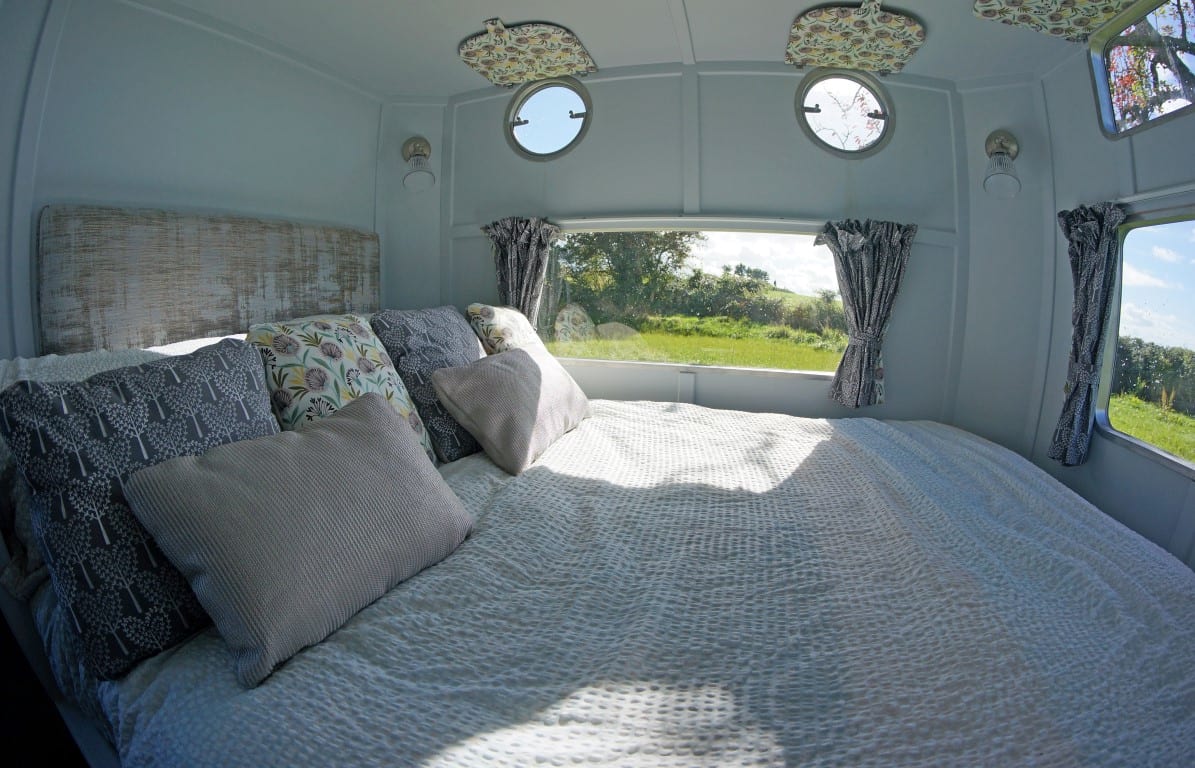 dsc01791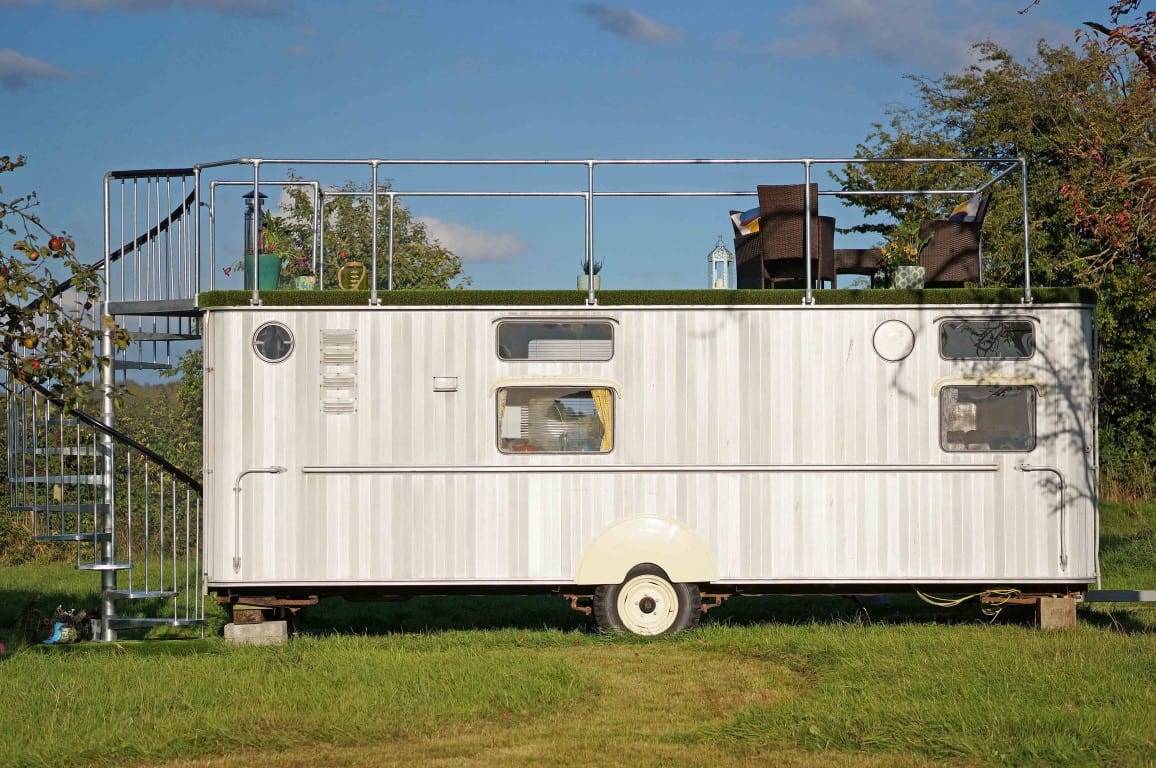 dsc01785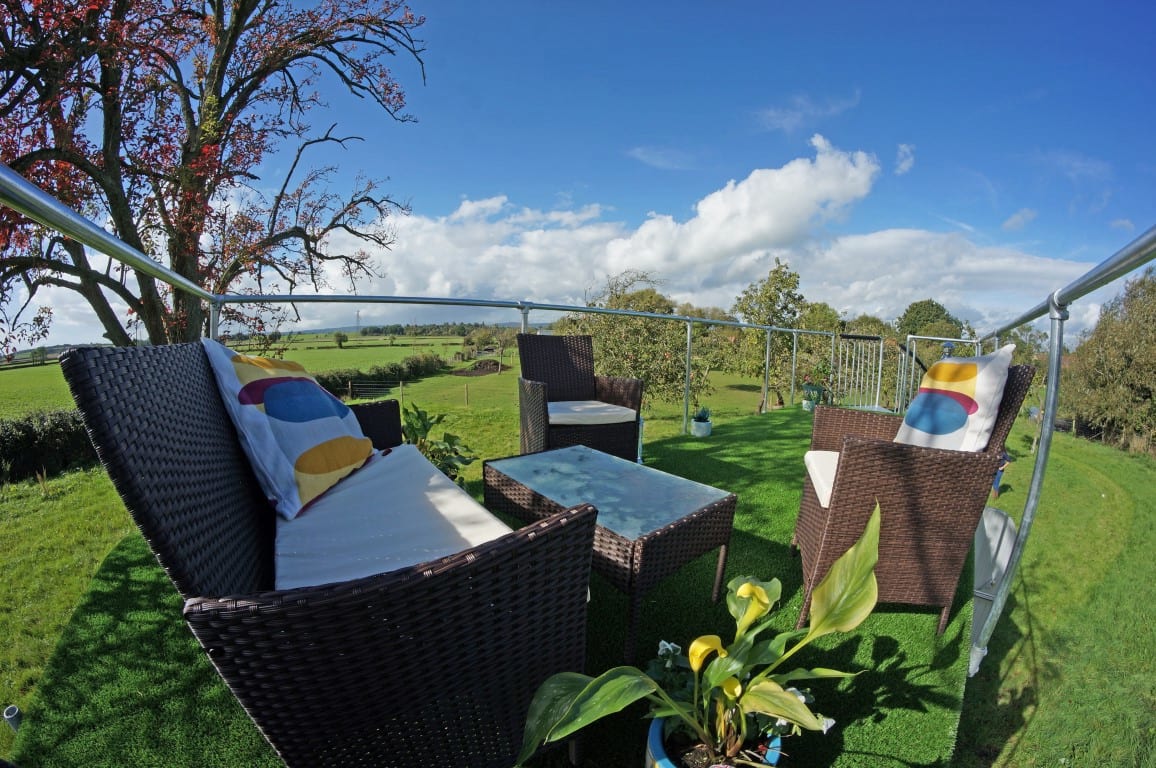 dsc01815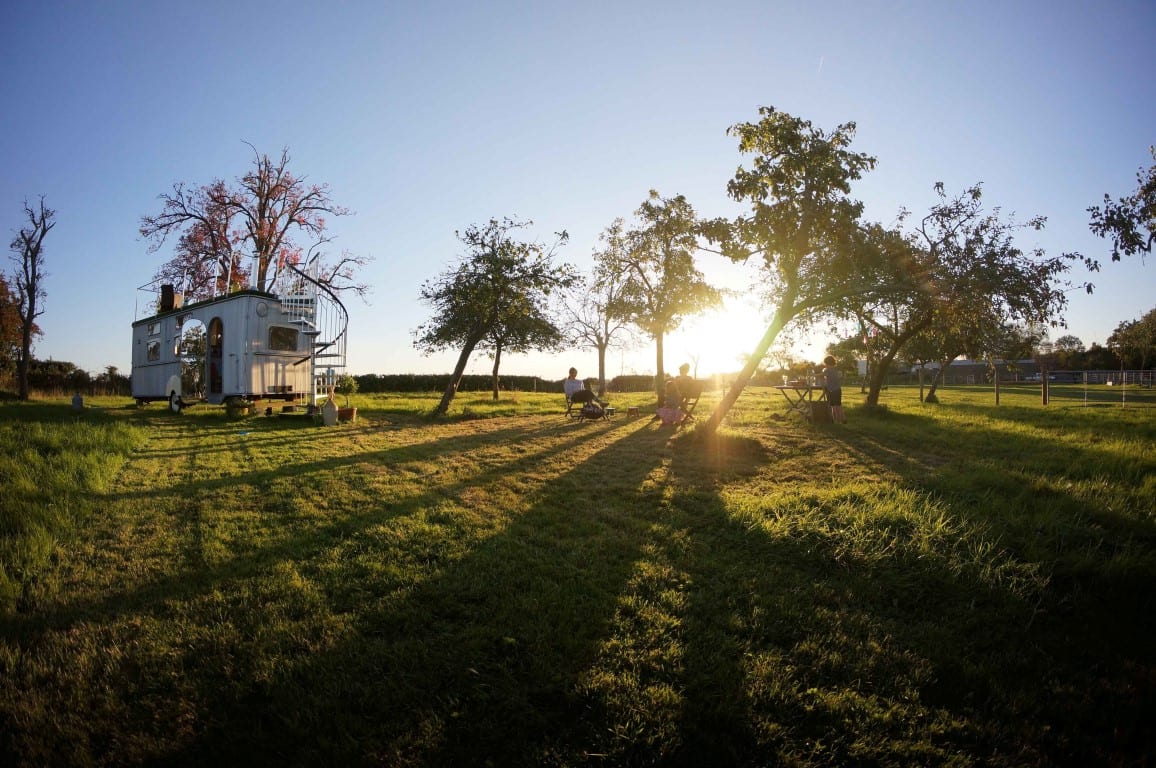 dsc01916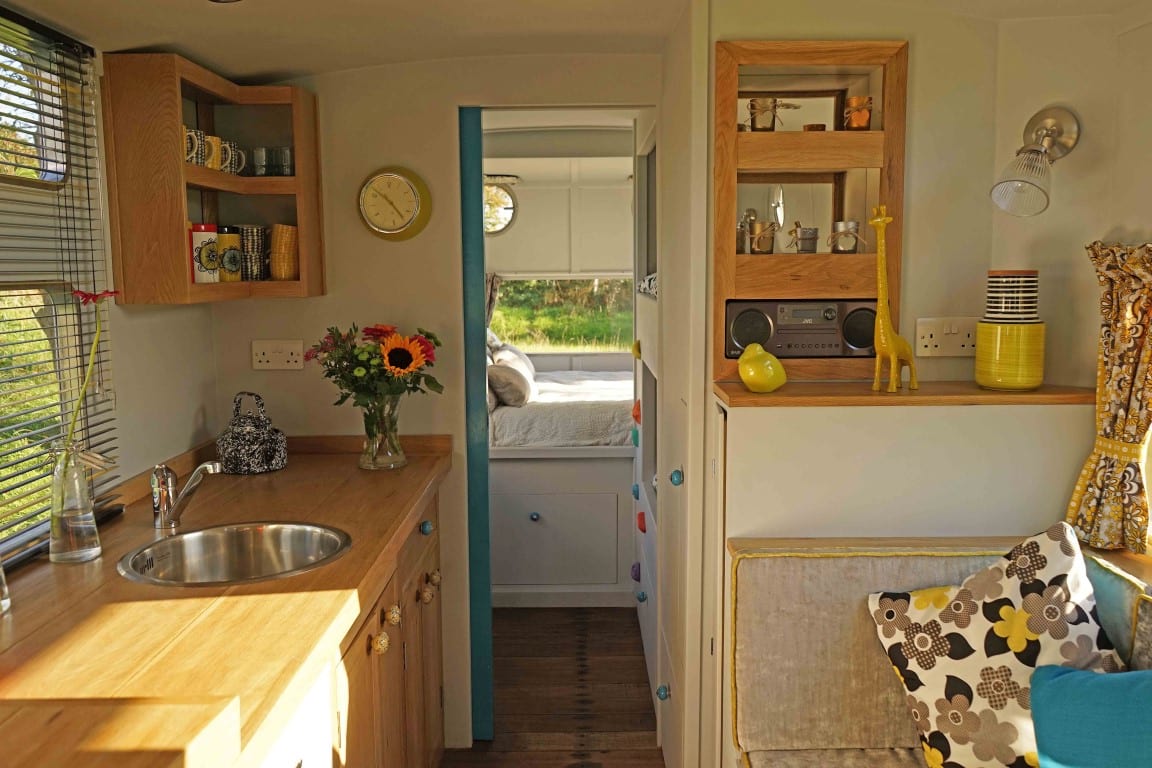 Warwick-Knight-living-area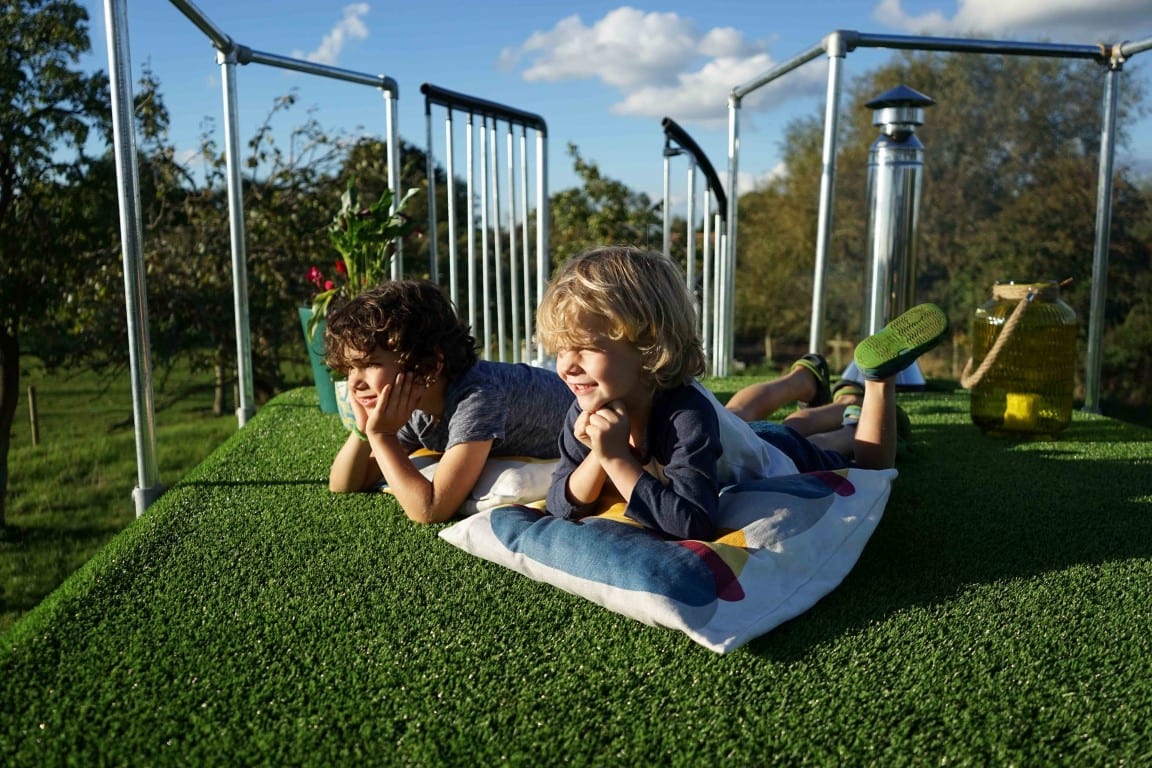 Warwick-Knight-roof-garden-watching-view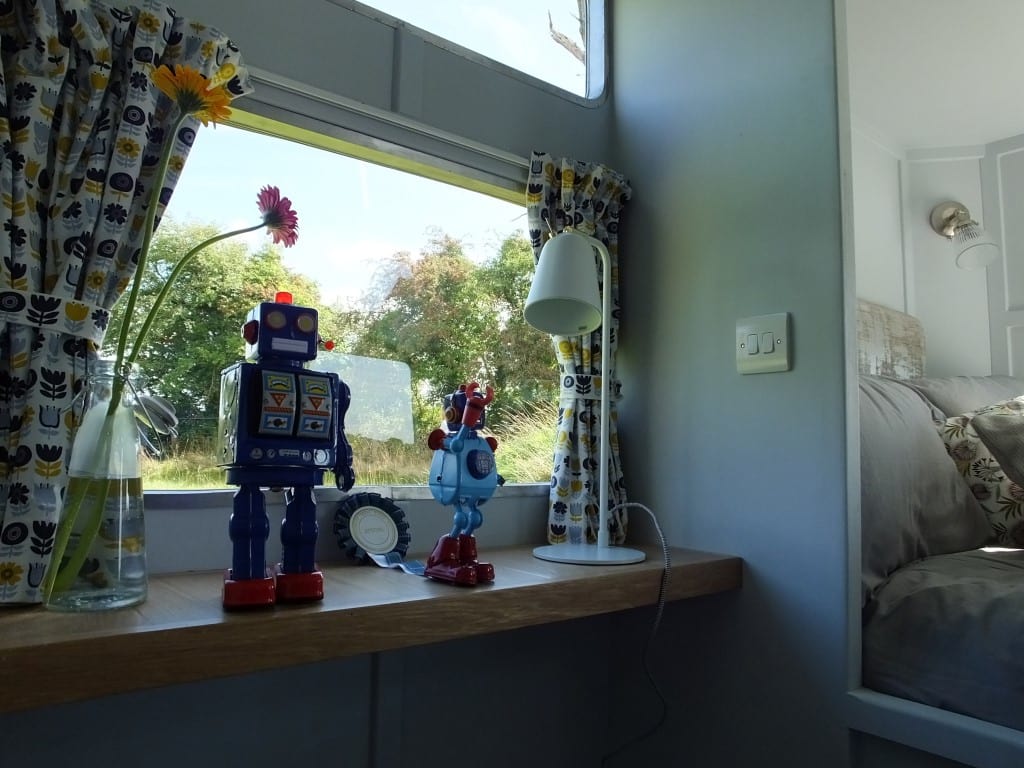 Warwick-Knight-bedroom-area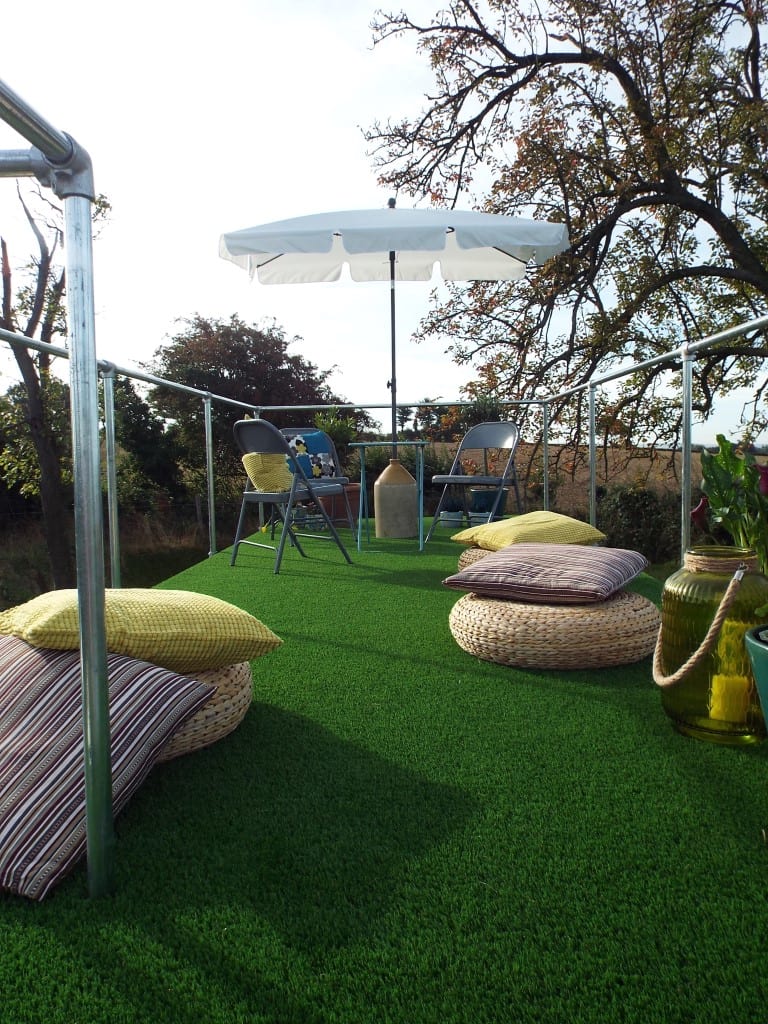 Warwick-Knight-roof-garden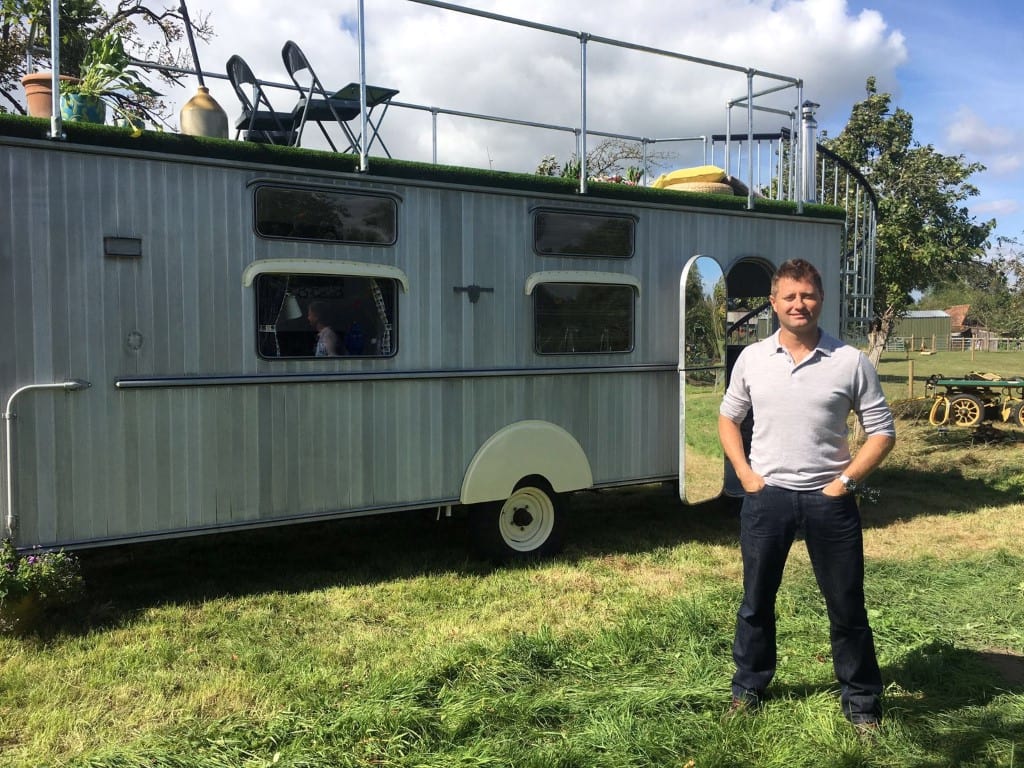 Warwick-Knight-George-Clarke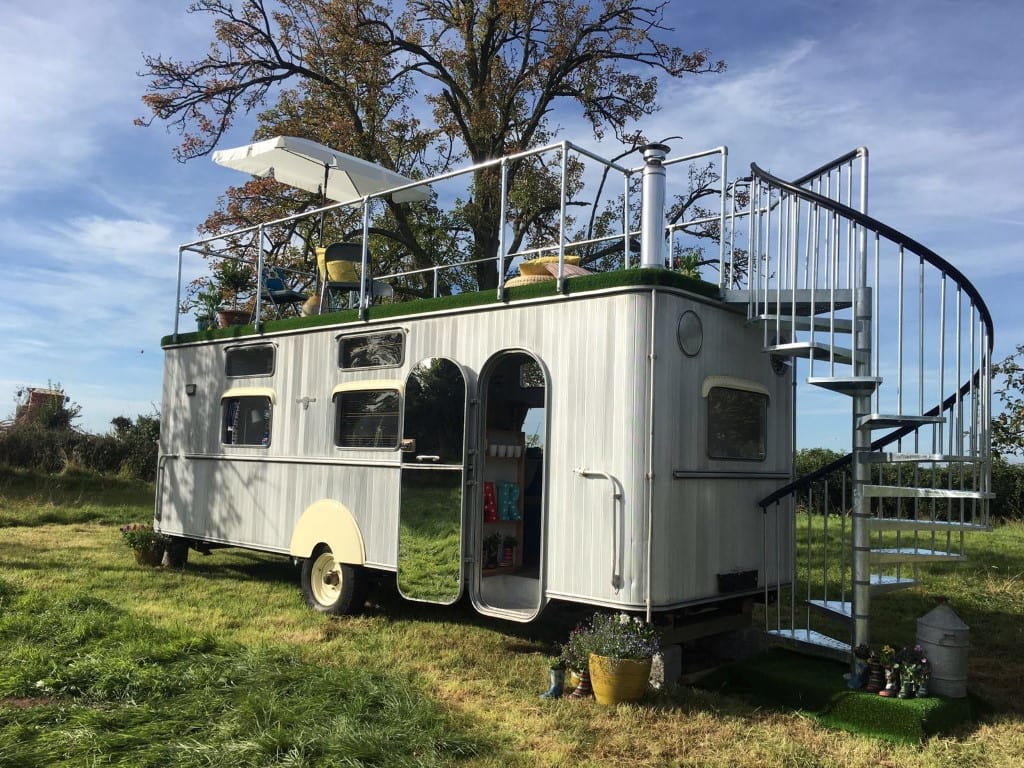 Warwick-Knight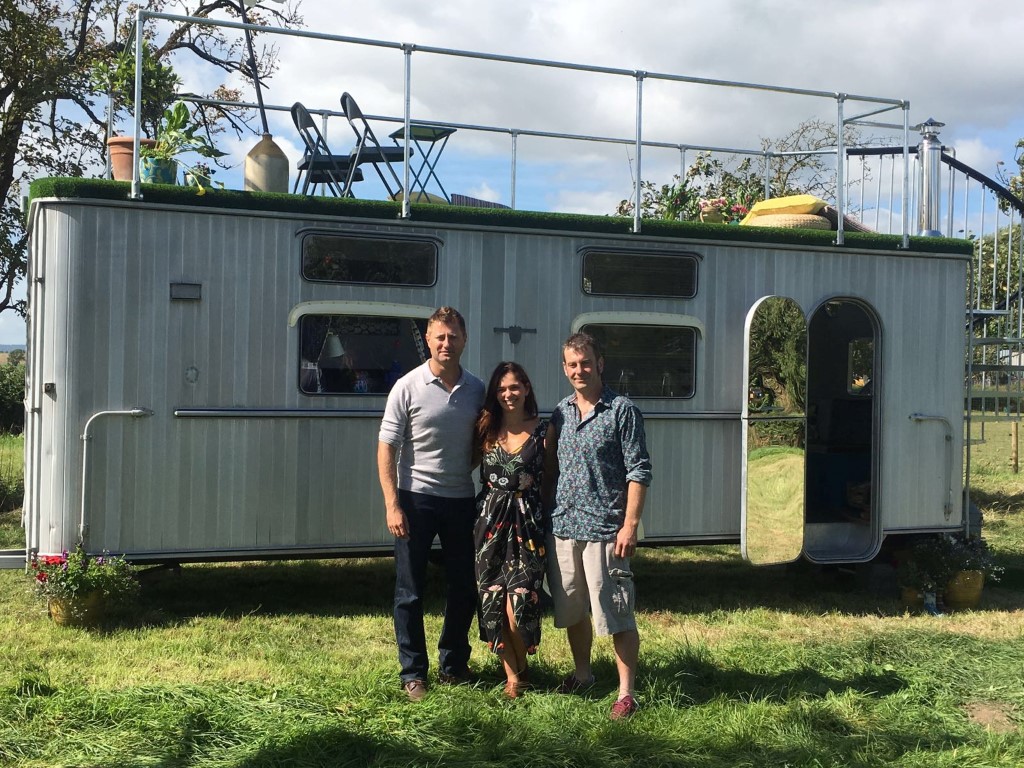 The Warwick Knight really has been a labour of love. There has certainly been many up's and down's along the way, but the journey has been amazing and we are touched and privileged to have the pleasure of wonderful, generous people helping us along the way. They are very much heroes of this iconic build and from the bottom of our hearts we would like to thank them so much.
Paul Pritchard, your company, patience, enthusiasm support and hard work has truly been overwhelming.
Sally Williams – End of Line Fabrics – For being imaginative, brilliant and being our interior rock! www.endoflinefabrics.co.uk / 01452 740777
Higgs and Higgs – for having vibrant and beautiful fabrics http://www.higgsandhiggs.com/ 01453 750 660
Lazy lawn Bath  – Professional team who did a fantastic job of Warwick's roof garden http://www.lazylawn.co.uk/bath.html / 0843 659 5870
To all our family and friends, (you know who you are) we love you dearly and your support and hard work has been tremendous and we are blessed to have you in our lives.
We feel so privileged every time we stay in the Warwick Knight Caravan. It really is the best feeling and we all get excited tummy flutters as the space inside and the roof garden are really magical.
So magical in fact, that we have made the decision that we would like to share him out to guests who can come and stay and have their own experiences and create happy memories of their own. So from next spring the Warwick Knight will be available to rent for weekend, mid-week and weekly stays. Please click here for further details: and we hope to welcome couples and families alike to come and stay soon.
If you have any questions we will be happy to answer them as we really do know the Warwick Knight inside out!
*Interesting facts about Warwick Knight shared by a Retro Caravan specialist, it just sums up that he really is a unique find.
Coventry Steel are the company who made the Warwick Knight caravans. These caravans were designed by Clifford Dawtrey – by far one of the best and most innovative designers of his time whom also produced work on Swallow and Jaguar cars. His son Brian Dawtrey, (93 years old) recently commented "The Warwick Knight was the best van that my father built."
The construction is slotted together aluminium extrusion. These caravans traded for over £2000 new in 1950, the equivalent to 3 brand new houses in the same era. They were truly built to last, but came with a price tag very few could afford. Many refer to them as 'the Rolls Royce of caravans'
The Warwick Knight was first exhibited in 1950 at the Earls Court Motor Show.
It was only manufactured for 2 years and they stopped making the model in 1952.
Research estimates that there are about 3 Warwick Knight's still in existence, which makes our find very rare and super exciting!