The Glamping Orchard is featured in the 'Cool Camping Kids' guidebook and we are delighted!
Chosen by Cool Camping to feature in the 'Cotswold' section with a three-page spread (p170 – p173) along with 4 other amazing family-friendly sites is a complete honour and we are over the moon!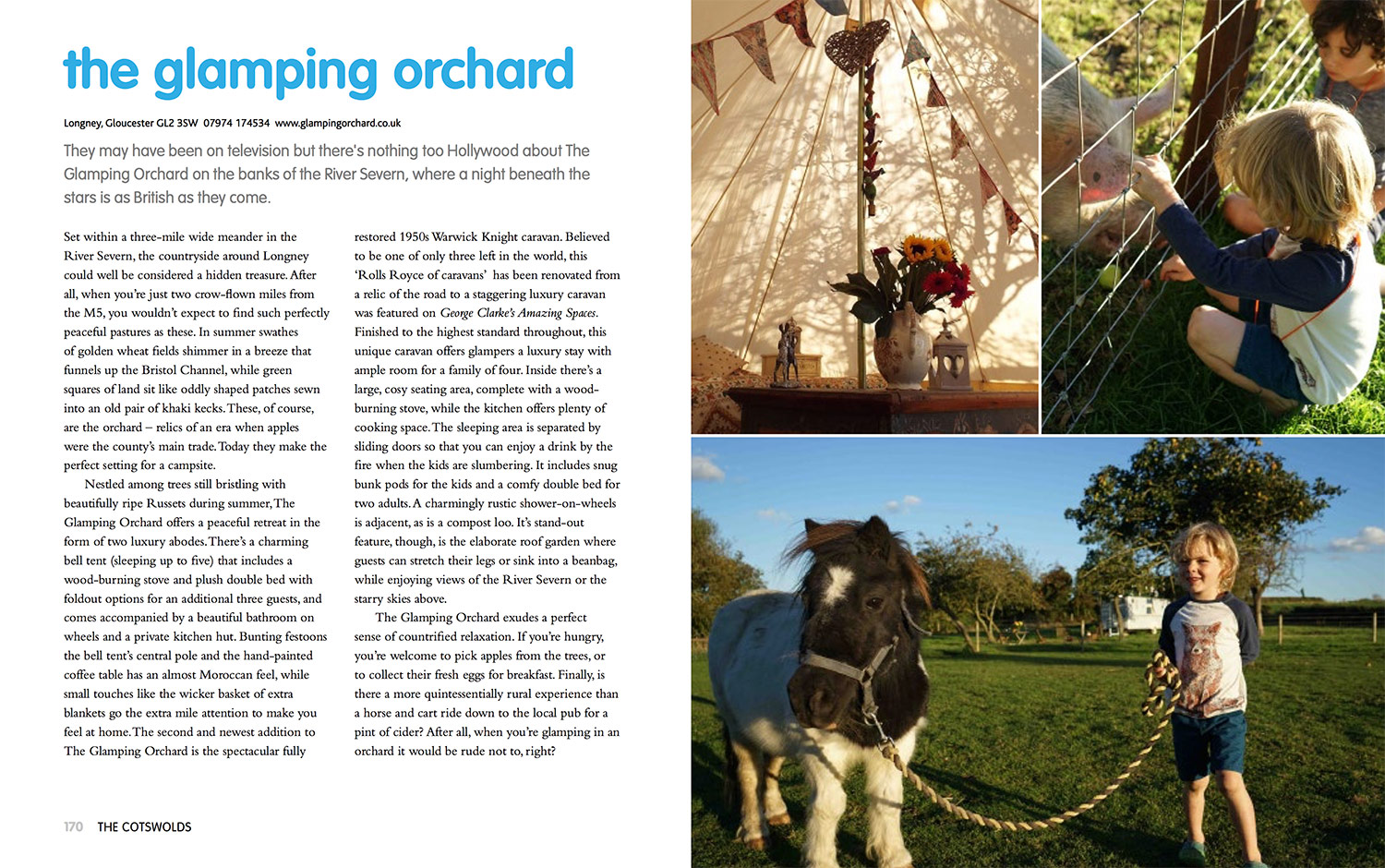 The third edition of Cool Camping's bestselling guidebook reveals Britain's 80 best family sites in full-colour glory, each carefully selected to guarantee happy kids.
Each campsite review details all the important practical information including 'onsite fun', 'offsite fun' and the nearest family-friendly pubs and cafés where you can find a bite to eat. This essential guide also features other ideas to get the most out of your camping adventure, with sections on campsite games, cooking with kids, family festivals and hiring a campervan.
To see The Glamping Orchard in print is a testament to our love and devotion we have put into our intimate family glamping site. Our guests tell us it is the secure areas in the orchard to allow their kids to run around freely, the interaction with our farm animals, the games we provide and how they can get back to nature, but not back to basics due to all the little touches we provide, is why they have a great time. Having two young boys ourselves we understand happy kids, equals happy parents!
At The Glamping Orchard, couples and families can discover two unforgettable glamping abodes and experience the perfect escape to the country. The Warwick Knight, a restored 1950s caravan with rooftop garden featured on George Clarke's Amazing Spaces; sleeps 4 (1 double, 2 bunks) and Belle, a charming bell tent for glamorous camping under cotton; sleeps 5 (1 double; 2 futons; extra bed on request); pets welcome.
For the latest availability and prices please visit our booking page.